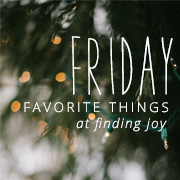 Knowing there's nothing to do tonight except hang out with my favorite guys!! Love a night at home!! Reveling in the fact that tomorrow is Saturday so no work for me, no daycare for baby...just lots of playtime!!!
Pumpkin spice frappucino's (soy, no whip please)
The myfitnesspal app on my phone - hoping it will help me lose weight as I count the calories! Check it out if you haven't - I love it!
Friends who can sew! My friend sews bibs and burp cloths and I'm placing an order tomorrow! Exclamation points apparently :)
The excited feeling I have - the horizon looks bright; just one more week until things come into focus
So what about you? What are your favorites today? Link up!