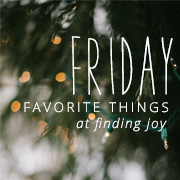 Oh there's so many things I could share on this Friday - so so many, but they'll have to wait. So today, I'm focusing on a few of the little things...


Being able to take my son with me to work today - looking over at him cooing and playing with his toes makes my heart sing!
Dinner with sweet friends tonight
The Mr. Pricklepants on my desk smiling at me :)
(not sure why he's sideways...)
I had enough time to make my bed this morning so it's ready and waiting tonight - oh I love a made bed!
The little bibs and socks and such sprinkled throughout my house. Sure, I'd love my house to be pristine, but these items remind me that I'm so incredibly blessed!