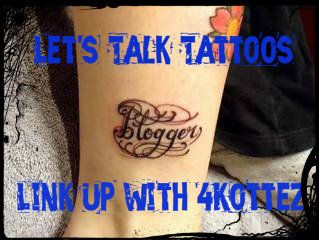 So I saw this link up through
Emily
and I must say I'm excited. It's the perfect thing to write about on a Tuesday when you're engaging in avoidance behavior :)
I got my tattoo when I was 21. I'd wanted it since 9th grade, sketched it out, and everything...but I waited until I was old enough. 2 friends of mine pitched in to help pay for it as my birthday present from them when I turned 21. My mom wasn't real thrilled with it at the time - but I did get her permission since I was still living under their roof.
Anywhoo...my tattoo is on my right shoulder, is about 4x6 inches, and is a bouquet of roses. 6 dead ones and 1 live one to be exact. The dead ones represent specific obstacles I've overcome in my life. The live one is me. There is a ribbon holding the roses together and it says "beauty from ashes". It's a reminder to me that all the things that happen to me are part of God's plan to beautify me. He has made, and continues to refine me, into beauty and I'm so grateful! It's not the best picture, but here it is.
The funny thing is, I got this tattoo a week before I met my husband. I found out a few months into us dating, that he almost didn't date me because he thought girls with tattoos were trashy. Ha!!! Thankfully, his brother talked him into giving me a chance. THANK GOODNESS! Andy likes it now by the way...but he doesn't want me to get the other tattoos I want.
What other tattoos you ask? The Huguenot cross - it has the coolest meaning! Plus relatives on my mom's side were Huguenots. I've wanted this for about 4 years now
And the other one would be a dandelion with seeds blowing off it - just because :) I've wanted this one for about 1 year.
However, the one tattoo I have will probably remain my only one.